Since 1998, Michelle Wittig, president and owner of ABC member-firm, Genesis Corporation, has been proving women belong in the construction industry.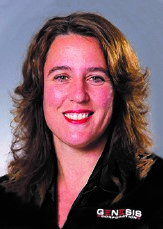 When she first started out, she worked for a nationwide residential firm. In 2003, Wittig was asked to join a large commercial design/build mechanical firm. She has since forged her own path.
In 2019, Wittig went into business for herself, opening Genesis Corporation (Genesis), a full-service mechanical, electrical, and plumbing firm. Genesis is certified through the Maryland Department of Transportation and WMATA /DDOT as an MBE/WBE/DBE/SBE firm (minority/woman-owned, disadvantaged/small business enterprise). The Towson, Maryland-based firm is also licensed in Maryland, Pennsylvania, Virginia, and Washington, DC. Genesis' first full-trades project was in June 2019, providing electrical, plumbing and gas piping systems to an existing building to house Baltimore County's first Hobby Lobby.
"As a certified MBE/WBE/DBE/SBE contractor, we offer our clients one point of contact, one contract, and three trades (MEP)," says Wittig. "And our 'we'-centric culture is based on whole-team collaboration, offering efficient deliverables to our clients."
Genesis has also expanded its capabilities to cover full phases of HVAC, opening a service arm. "We can install it, start it up, commission it, and service it through the life cycle of the equipment," says Wittig.
For its commitment to safety throughout, Genesis recently achieved STEP Platinum recognition—the second highest level in ABC's safety benchmarking program.
In just a short time, Genesis has become an approved contractor for Johns Hopkins. It's currently performing full MEP services at Johns Hopkins' Biomedical Research Center/National Institute on Aging Vivarium MRI renovation project. Genesis has also performed work in the redevelopment of Cherry Hill, providing full MEP to that community's first bank (Chase). For the renovation of the Cherry Hill Town Center, Genesis provided electrical systems installation to the core, shell, and tenant spaces, which include the bank, food court, café, market space and exterior/site lighting.
Genesis believes in providing opportunities for growth for all employees, says Wittig. A key to that success is strong communications within the company. "Our open-dialogue platform encourages ideas and success sharing, eliminates us-and-them mentality, creates job satisfaction, encourages field-level decision making and elevates organizational IQ," says Wittig.
Since founding Genesis, Wittig has made corporate philanthropy part of the equation, regularly supporting Grace Fellowship Church's community outreach programs, including Harvest Food Center and Community Closet. Genesis is also an annual sponsor of ABC National's Diversity and Inclusion Summit.
Through its support of the National Bring Your Child to Work Day (for now a virtual event), Genesis is committed to growing the next generation of the construction workforce. "Our operation manager's son, Alex, has shown an interest in design and understanding of how things operate mechanically. Our director of electrical's daughter, Karrington, has shown an interest in electrical estimation, and was a WABC scholarship recipient," says Wittig.
As it continues to move forward with implementation of its smart-growth plan, Genesis Corporation continues to add experienced licensed team members, while also supporting construction apprenticeship programs. To date, Genesis has six people enrolled in HVAC and electrical apprenticeship programs in two states.
"We are excited about and committed to growing the next generation of licensed tradespeople while contributing to our industry," says Wittig, who has also served on the board of ABC Greater Baltimore, chaired its Women in Construction Committee, and served on its Diversity Council.